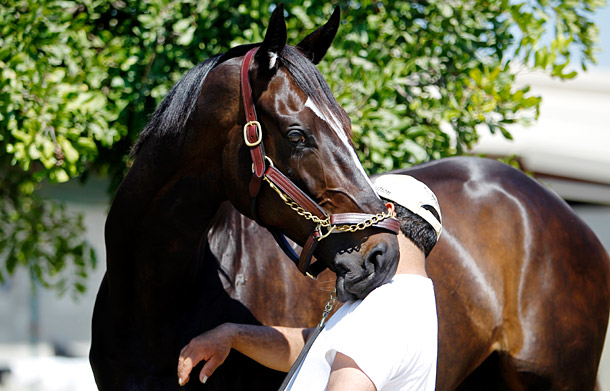 Lately, Ann has been working on a plan. It makes Jerry shiver when she brings it up, which I suspect is because Ann has a habit of getting her way. I accidentally — and, given my love of instigation, delightedly — stumbled onto it.
Why not move Zenyatta to their house?
"Let's not go there," Jerry says.
"We've got lots of lawn there," Ann says. "She could really like grazing."
"It is even legal?" I ask.
"It is in Bel-Air because Nicolas Cage has a horse across the street in his garage, actually," she says.
"We don't have that much room," Jerry says. "The ground is uneven."
"She loves to graze," Ann says. "There's lots of grazing there."
"She is 1,200 pounds," Jerry says.
"There are all the old horse trails around," Ann says. "That's how people used to ride their horses from Bel-Air to Beverly Hills. The old Bel-Air, the old L.A. Our property has two of the old horse trails."
"But there's a fence in the middle of one of them," Jerry says.
Ann turns to me.
"This is as far as it's gotten," she says.
"This is as far as it's gotten," Jerry says. "The discussion stage. I have a feeling reason will prevail."
They sit and talk for a while, looking at the photos of the latest race, but I can't get past the earlier conversation. I was sitting there and I'm telling you, Ann Moss was serious.
Wanna know how much Zenyatta means?
The owners have actually discussed moving her to their house.